Precision building with traditional values
Porotherm is a precision engineered modern clay block walling system with reassuringly traditional values. It is revolutionising the UK construction industry through exceptionally fast, virtually dry construction combined with high strength and thermal efficiency.
A unique interlocking design rules out the need for mortar in the vertical joints and consistent manufacturing quality allows for true 1mm bed joints.  Used successfully for decades across Europe, porotherm is now well-established as a building solution in the UK. Porotherm can be used in load-bearing and non load-bearing applications and is ideal for cavity walls, infill panels, partition walls, and external walls.
With its lean laying process and rapid daily output, Porotherm brings cost and timesaving benefits throughout the build while its thermal and acoustic efficiencies bring further advantages. The design life for a Porotherm wall is over 150 years.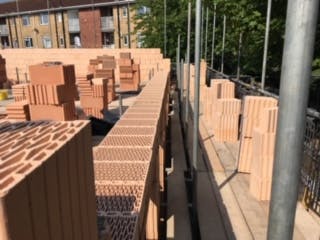 Porotherm is a fast, virtually dry construction that has a high strength and thermal efficiency