The alternative to timber weatherboarding
The ideal alternative to timber weatherboarding, fibre cement does not require preservative treatment and is not susceptible to fire, available in a variety of finishes and colours.
Installed just like timber, weatherboard plank comes in a variety of standard and made to order factory painted surfaces. While it is heavier than materials such as timber or PVC, fibre cement is still one of the lighter cladding options which means it is quick and simple to fit.
Cedral fibre cement cladding
Cedral Lap fibre cement cladding is an attractive, low maintenance, rot free alternative to other more traditional cladding materials. Cedral Lap can be supplied in a range of 21 factory applied colours and 2 wood stain finishes, providing an aesthetic option to suit many project requirements.
Cedral Click external cladding weatherboard is a flush fitting tongue and groove weatherboard product and is fitted in a contemporary flat finish rather than shiplap. Cedral Click weatherboard is supplied with a simple 'Click Clip System', which makes installation quick and easy, making it ideal for both new and refurbishment projects where time constraints are a factor.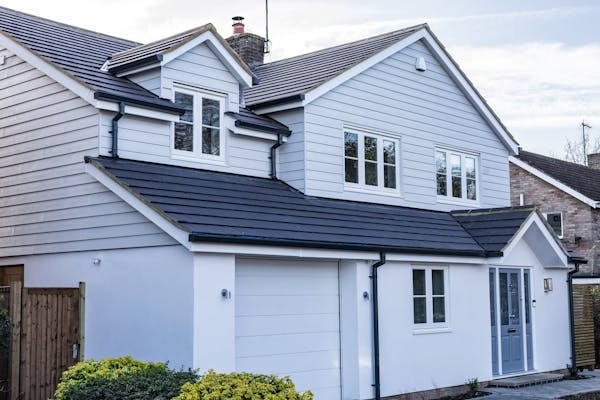 Fiber cement cladding panels
Fiber cement cladding is a durable low-cost alternative to more expensive cladding options like wood and stone. When detailed properly, it looks like a more expensive product. Dense, high-quality fiber cement panels can mimic the appearance of stone or concrete at a much lower cost.
Available in Shakes and Shingles, Horizontal Lap Siding, Shiplap Siding, Vertical Siding and soffits.
By itself, fiber cement is not well-equipped to protect a building against moisture penetration. However, most fiber cement cladding manufacturers produce back boards and other underlay materials that can enhance the building envelope's overall performance.
Fiber cement finishes range from smooth to highly textured, as well as those that imitate wood, stone and brick.
Fibre cement is one of the lighter cladding options which means it's quick and simple to fit